When our web novel IP dominated web dramas, the North Americans still don't know what web novel was. In July of this year, Amazon launched a new platform called" Kindle Vella", where users can spontaneously upload novels and stories, which led to the first serious discussion of web novels in west media circles. They don't even have a unified name for it. There are various names, such as online novels/literature/reading, net novels/books, story platforms, and so on.
Despite the different names, they all agreed that Amazon innovated the Vella product because of the epidemic and industrial threats. The continuing epidemic has hit the traditional publishing industry occupying more than 80% of the market, causing e-books whose sales have fallen for five consecutive years but suddenly increase. According to Good e-Reader, in May 2020, more than 2 million new users poured into Kobo e-books during the epidemic; as of December 2020, e-book sales have increased by 16.5%, and in October it even reached 20%. More importantly, the market for e-books has quickly heated up the blank North American market-online literature, which has been established by the Chinese capital for a long time. Whether it is in App Store or Google Play, the online novel APP ranked top 10, and the Chinese-funded APP accounted for 8 seats. According to Apptopia, a data platform from the real-time competitive intelligence, in the past year, purchases of mobile apps on the top 7 web-based platforms have increased by 50%, exceeding 12 million dollars per month from May to July.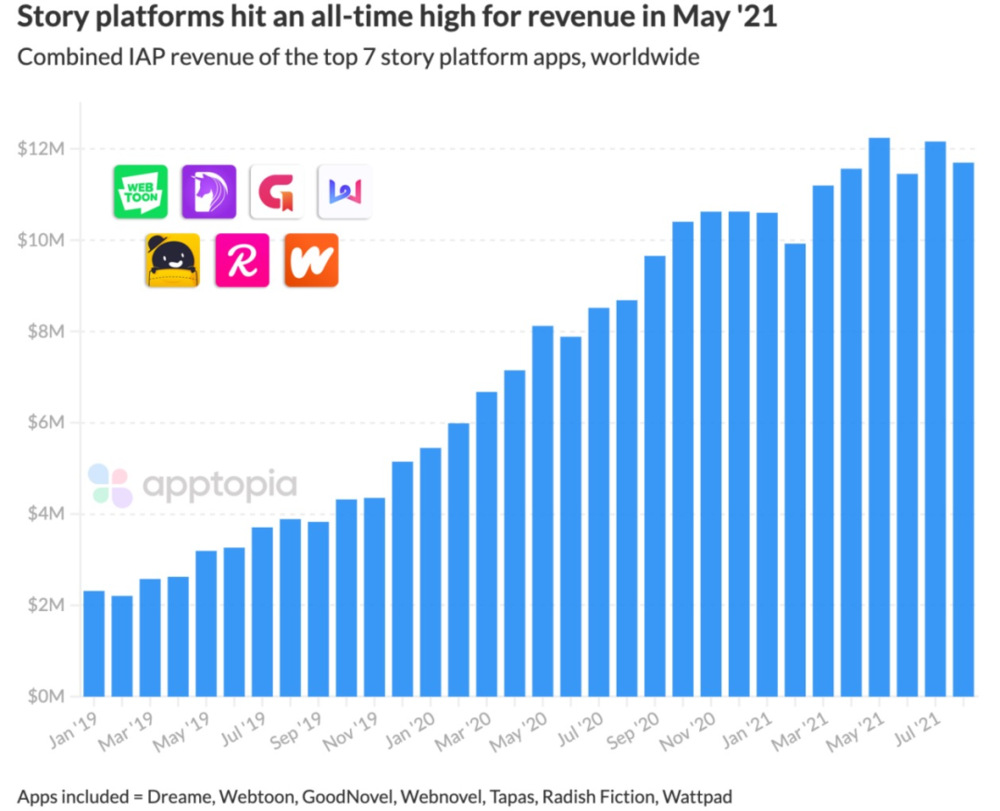 A copyright businessman said: According to the data, the audience of the werewolf theme generally has a lower level of education, and is more general and common. This is why it is clear that Western film and television dramas show more of the subject of vampires, but the Vampires Web Novel is not as good as the werewolf literature. Generally speaking, because vampires are mostly born nobles, while werewolves are most common, the latter will have a stronger sense of substitution for a more common web reader. Currently, all online platforms that go to the sea are vying for the theme of werewolves. Some platforms have also tried to develop popular BL themes in China and Southeast Asia, but their performance is not satisfactory. Why they don't like BL stories? My friends who have stayed in the United States for many years think that maybe because the same-sex culture in western is not as depressing as Asians. Ten years ago, there were boy & boy, and girl & girl everywhere on campus. So they don't need to be satisfied by reading web novel. After BL theme fails, many platforms have turned their goals again-Son-in-law, Bingwang. And male-lead online web novels are becoming the next outlet for the layout. More than 200 Chinese companies to fight for overseas web novel market, giants and small companies on the same starting line?
It is hard to imagine that there are more than 200 Chinese companies worrying about supplying foreigners' web novel. Shouldn't it be the game of giants? At the end of last year, Chen Jing, vice president of Facebook in China, revealed this data at a summit. Because more than 200 Chinese web-novel companies have carried out a large number of advertisements on the Facebook platform, Facebook has made a lot of money. For web-novel giants in China, going overseas is not as easy as it seems. They are still in a state of internal and external troubles: they have to face the homogenized competition of a large number of unknown domestic companies going abroad, and they have to fight against new outsiders-the American giant Amazon's Vella, and Wattpad acquired by the South Korean web comic giant NAVER, and GALATEA of Inkitt, a traditional German publishing giant.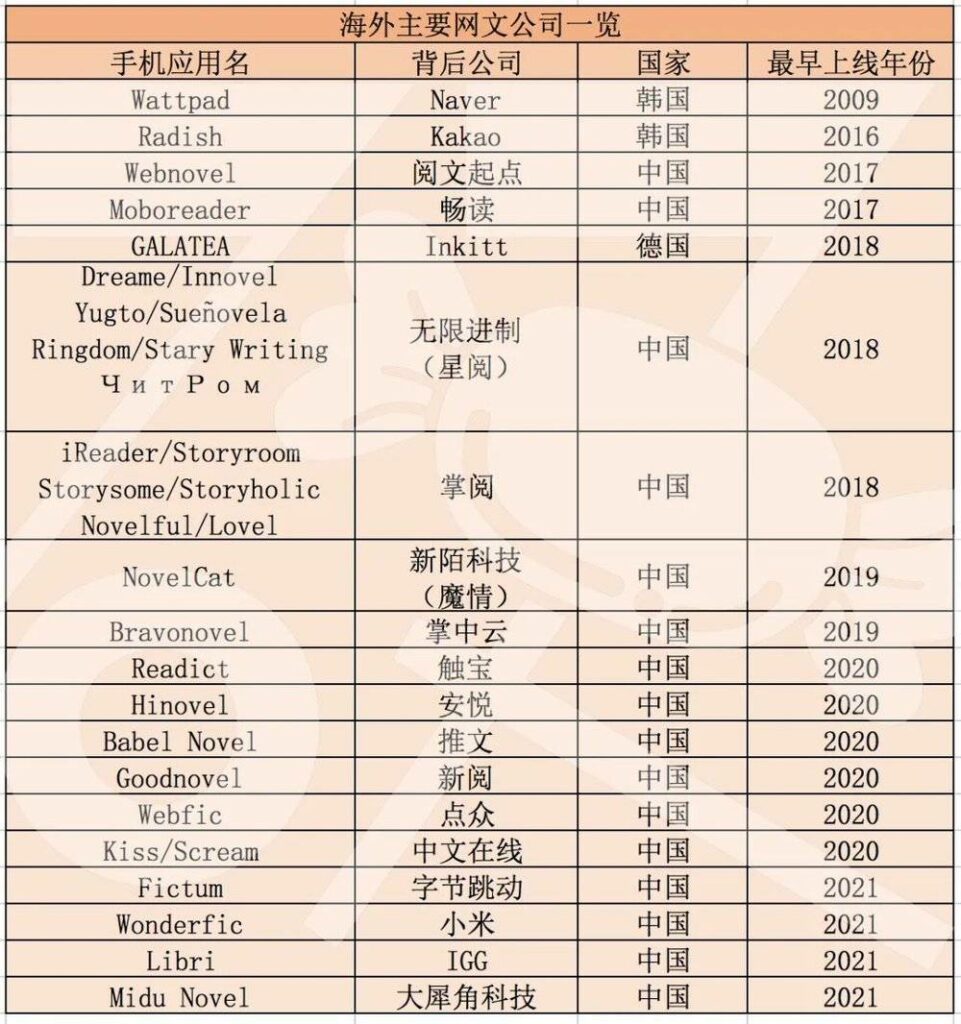 I randomly downloaded the ranking lists daily from the App Store and Google Play, and screened out the top 10 in the web literary category, and found that the top companies were similar. In each list, there are at least 8 Chinese companies on the list, including Webnovel, iReader, Webfic, and Fizzo (Fictum). There are also two apps of STARY on the list-Dream and Sueñovela, which focuses on the Spanish market.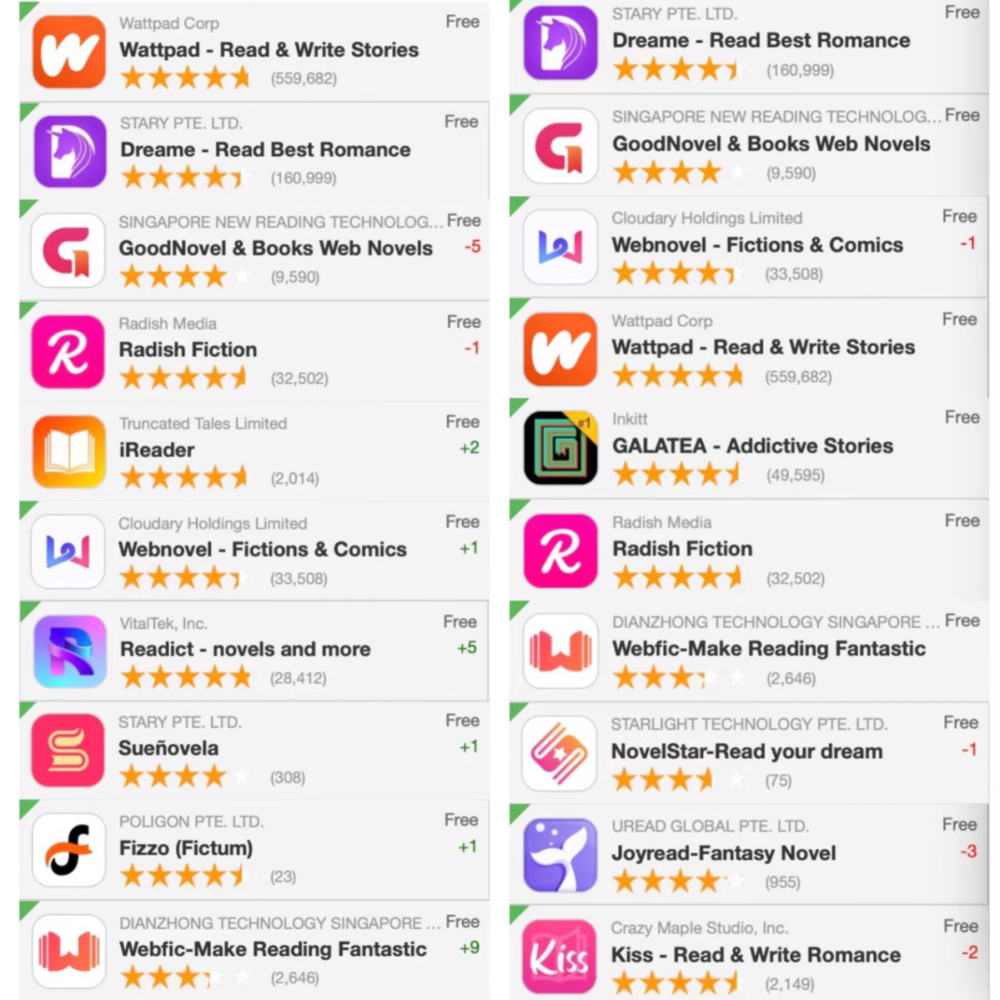 There are also many web-novel apps, although the companies behind them have not been clarified, such as NovelStar and Joyread, which are all newly registered as Singapore companies in 2020, most likely they are companies in China. It is reported that the registered places of the China emerging Internet companies represented by STARY are all in Singapore. It seems that Chinese companies firmly occupy the dominance of the US online literature industry. It's just that from the list of overseas online advertisements in Q3 this year, Inkitt of Germany, NAVER of South Korea, and Pratilipi of India are all increasing their efforts. The latecomers are aggressive and should not be underestimated.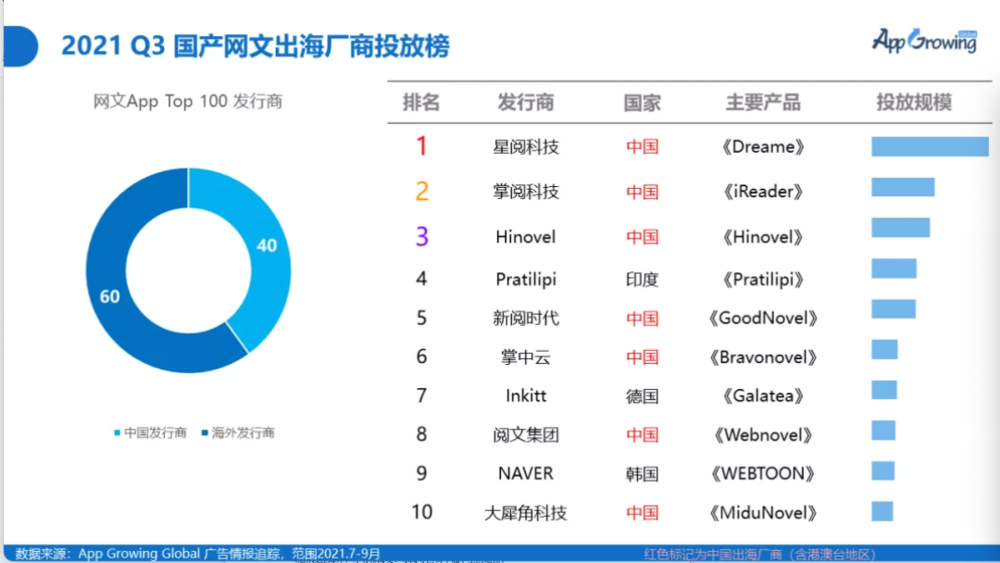 In addition, Chinese companies also took the top three places with the Top Gross, which are Dreame of STARY, GoodNovel of XinYue, and Webnovel of ChinaLiterature. What surpassed my expectations: The domestic web-novel giant, ChinaLiterature, was even on par with the two new overseas companies, STARY and XinYue. A copyright business man said: in the first stage of web-novel overseas, giants in china are mainly engaged in translation. It wasn't until some emerging overseas companies entered and vigorously cultivated overseas original authors of online articles. After the unexpected improvement, giants in China also adjusted their direction. There is now the so-called second stage of online Internet overseas-ecological overseas. According to the iResearch report, the payment rate for overseas original works on a certain platform is very low, only 30%. However, according to an industry insider, web novel platforms such as STARY, which are mainly original authors, have reached 90% of original works, and because of the epidemic, they have begun to make profits. It is rumored that the boss of STARY was once a well-known online webnovel author in China. After realizing business opportunities in 2018, he began to deploy the overseas webnovel market.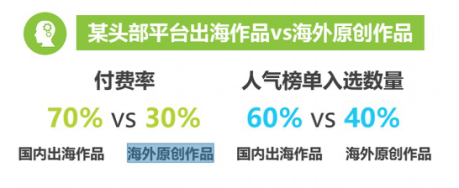 These new companies have no original web IP assets. They have cultivated foreign original authors from scratch, and have taken the lead in overseas-ecological overseas. Therefore, at this stage, they are on an equal footing with giants such as ChinaLiterature and iReader. Webnovel-overseas 2.0: Competing for overseas authors? With the first stage of the mission of promoting Chinese culture, many giants are trapped in the puzzle of how to improve translation technology. Manual translation is time-consuming, costly and inefficient, and was strategically abandoned early on. CEO of FunStoryAi, Tong Ye, who has always been committed to translation technology, gave an example of manual translation. The short web novels have 3 million words, and the long ones go straight to 8-10 million words. If calculated based on an average of two to three million words, the cost of translation alone would be between 600,000 and 800,000 Yuan, excluding the costs of proofreading and management. Later, with the so-called AI translation technology, it has successfully exported more than 10,000 web documents overseas. However, as of the end of 2020, the number of existing webnovels in china is nearly 28 million. This is a translation efficiency of 0.035%. More importantly, no matter how upgraded AI translation technology is, cultural differences will never be eliminated. Therefore, for the Chinese web novel company, it is bound to embark on the path of ecological overseas way – endure the painful end of the difficult translations of martial arts and immortals, and begin to find overseas authors to create their stories. This is why the rise of overseas werewolves, while martial arts and Xianxia type bleak. According to industry insiders, the emerging companies that run ecologically ahead of the giants have accumulated a large number of overseas original authors. Moreover, they signed an exclusive agreement with the author, and even some overseas "silly" authors are willing to sign a lifetime contract, which is equivalent to a "sale contract." A certain platform copyright business said: "Foreign authors may not really understand the regulation of web novel. They don't know the difference between exclusive and non-exclusive. After signing a certain platform, they will happily advertise it everywhere." But now, after the giants adjusted their strategies, everyone flocked to compete for foreign authors, and even a new industry, an agency company for Internet writers, was born, which is equivalent to many MCN agencies in China that excavate new Internet celebrities. They searched for potential foreign authors from various channels, signed a large number of newcomers, and hoarded author resources. Many web-based platforms now use these agencies to sign authors. I noticed that the difference between Amazon Vella and China's webnovel model is that in addition to recruiting new people, they prefer to talk about traditionally published authors turning to online essays. For example, Audrey Carlan, the author of "Marriage Auction" in Vella, is a best-selling novelist who has published 30 novels. In an external interview, she talked about the differences between the writing of web novels and traditional published novels. The most important thing is that web novels should have a sense of suspense.